I had the Android screen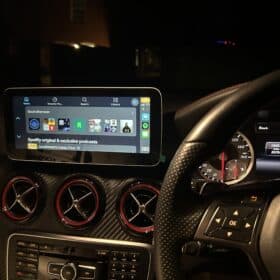 I had the Android screen with CarPlay installed in my Mercedes. Neil and his team were great and the interior looks so much better. Thank you
Harry Richards
November 22, 2023
Superb Outfit
Having known Mr Braybrook for a number of years now I know only too well how good they are. Just had some accessory fitted and as usual, superb. My go to guys I tell you. When you know the best why try the rest? Thank you indeed!! And I'll be back for more!
5stars always!
David Crawford
November 22, 2023
Apple CarPlay Fitted
Super helpful and very knowledgeable regarding all things Mercedes.
They came highly recommended which was proved correct when dealing with them.
Our business will be back with our next Mercedes.
All the best,
Mem
Mem Ismail
November 7, 2023
Fantastic Service
I've just had a Reversing Camera and CarPlay installed in an E Class Estate – what a fantatstic service – friendly, professional and above all knowledgeable. Would definitely recommend.
Andrew
November 7, 2023
Fitting rear parking sensors and the fantastic upgrading of factory fitted audio.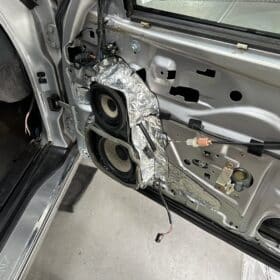 Braybrooks are brilliant and get a very deserved 5-stars from a very fussy Mercedes club member.
These guys certainly know their profession with decades of experience (especially with Mercedes) under their belts. It's obvious that they take great care and pride in their work with meticulous attention to detail throughout.
Highly recommended.
Paul Gooderham
October 18, 2023
Car radio
Was having issues with my radio, Braybrooks got me booked in and the issue sorted, highly recommend, very polite and professional.
Alex
October 16, 2023
Electric folding mirrors
Fantastic service from start to finish. Can't believe how easy it was for the team to fit my folding mirrors. Also cannot believe mercedes left them out on production of the vehicle. It is the finishing touch to my car. I would highly recommend these guys for anything you need for your car, so professional and knowledgeable, thanks for everything and at an affordable rate.
Helen holmes
September 29, 2023
E350 CDI Sat Nav installation
Had upgrade to my existing audio system in the Mercedes to a factory spec Mercedes sat nav with Bluetooth audio streaming which the old unit didn't do. The process from initial contact to installation was seamless no pressure but honest people refreshing in these times. Keep up the good work
Kam Dosanjh
September 29, 2023
Amazing Service
So glad I found Braybrooks online, competitive prices extremely knowledgeable, my fitting was effortless for me, lovely waiting room.
Work was carried out quickly and professionally showing the vast knowledge of the company.
Already planning to get two dash cams installed by Braybrooks.
5 stars isn't enough
Adam Churchman
September 28, 2023
Slk reversing camera fix
Faultless, very professional
Alan Williams
August 30, 2023
A pleasure to deal with
I recently had a dashcam fitted by Neil and the service was second to none, all done in double quick time while I sat drinking coffee and looking out over the rolling hills outside the workshop.
A great job was done and I couldn't be happier.
Highly recommended.
Gareth Lloyd
August 23, 2023
Front parking sensors and Apple CarPlay
Neil did a fantastic job in fitting front parking sensors to my A class, and installing apple play to my multimedia centre.
Very professional job, which I am very pleased about.
He is also very friendly and courteous, which is also a plus.
I would highly recommend Braybrooks.
Thanks a lot guys.
David Joseph
August 16, 2023
Fantastic service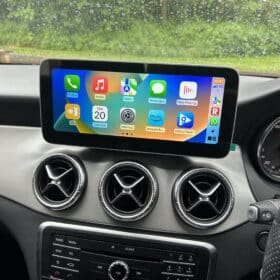 I had car play fitted previously by another company in Newcastle, but ended up removing it from the car, as I had loads of problems. When I found Braybrooks and it dealt with Mercedes cars, I rang Neil and he give me the option of CarPlay or a new android screen he spoke in depth about the options and I decided to get the new android screen with car play built in, I traveled down from Newcastle to have the system fitted, the place is spotless and professionally ran and Neil and Baz were great, the full fit was done within 2hours, including a full explanation of how it all works. On travelling back to Newcastle I tried everything out and it was great. It was well worth the travel and I couldn't recommend Neil and Baz enough.
Thanks again
Ian Danks
July 13, 2023
Fitted Parking sensors and retrofitted folding mirrors on Mercedes A250e
Very professional . Highly recommend.
Dr B Bhan
July 13, 2023
Apple carplay installation
Installation of Apple car play for my 2015 Mercedes CLA, very happy with the service and professionalism provided, would definitely recommend and use again.
Pedram
June 27, 2023
2020 A Class Screen upgrade from a 7″ to a 10.25″
I travelled over 185 miles from Oldham near Manchester and I'm glad I did worth every mile and every penny for a 1st class job thanks Neil and your team it was a pleasure.
Brian Lord
June 24, 2023
2015 C class Head Display Unit upgrade
2 hrs, job done, just as promised. Great team. Will be my 1st choice in future for MB enhancements.
Vignesh SK
June 13, 2023
Apple CarPlay
A very fast turnaround fitting apple car play into my car
100% recommend
Joe choy
May 24, 2023
Neil's a miracle worker!
I had almost written off my Mercedes radio/cd/GPS system and infotainment screen, it having failed completely, but Neil insisted that there was a 95% chance that he could mend it. Mercedes wanted a huge amount of money to replace the unit, so I had nothing to lose. True to his word, just two hours in the workshop saw me driving away with a fully functioning unit once more.
Many thanks to Neil and Baz for their expertise and professional service.
Jeff Bishop
May 24, 2023
Very happy customer
I was recommended Braybrooks by a friend and I am very glad he did.
I had wanted CarPlay for ages, but was told repeatedly it was not possible. Braybrooks could not have done a better job. Neil was super friendly and helpful and the work was done very quickly at their garage. It has made such a difference to my driving experience already not having to use the horrible Mercedes system!!
Would highly recommend.
Samuel Lynes
May 20, 2023
5 Star Service
Really pleased I choose Braybrooks for the work on my S500e. Neil and Baz installed Apple Car Play/Android Auto, Mercedes front and rear dash cam and powered boot open/close.
The quality of the work completed has been done to an incredibly high standard. It is as if it was factory installed. As I traveled 2.5 hours to get there I used the customer lounge, free hot drinks, very comfortable and beautiful surrounding area.
If I need any other work doing, the distance won't matter, I will use Braybrooks again. Thank you Neil and Baz
Keith Roskilly
May 16, 2023
CarPlay in C Class Mercedes.
I had Apple CarPlay fitted to my 2018 C Class Mercedes. It took less than an hour to fit! And works perfectly! Neil took me through the system with patience, in a clear and precise way. I can not recommend Braybrooks In-Car Enhancements enough. A very professional set up and great value too. I'm very impressed with the whole team and will always contact them first in the future if I ever need any In-Car enhancements. First Class Service!
Chris Coles
April 16, 2023
New speakers
A great experience from start to finish. Neil was quick in getting back to me and helped me choose what speakers would work in my car. Fitting took no time at all and they did a brilliant job.
Will definitely be using these guys again.
Callum
April 6, 2023
Had an upgraded Android
Had an upgraded Android screen fitted, looks great, the guys were very professional and the whole process from ordering to the actual fitting was easy and painless, would definitely recommend this company.
Steven Salt
March 27, 2023
Folding mirrors
Recently had some folding mirrors fitted. Excellent work.
Asked for some additional work to be completed to hide some wiring, done at the same visit to the workshop.
This is the second time I have had some retrofits completed, would highly recommend Braybrooks. The quality of service and work is excellent.
Mike Salt
March 20, 2023
Wide Screen Android
Quick and very professional installation of a widescreen android set up to my Merc. Also had use of a desk and wifi while it was being done which was great for work. System is high quality and I can now get wireless car play and all apps. Many thanks
Neil Crawley
February 19, 2023
Excellent
The guys fitted a new android display, and I'm very happy with the result. Nice guys and good workmanship, Thanks
Howard Star
February 15, 2023
Replacement of my W205 centre console
Just a fantastic team, I called one day for info and 4 days later I was there. Everything was explained properly over the phone no surprises. Neil is just a gentleman heard what I suggest about the parts I took with me and gave me his opinion. They replaced and wired centre console in "seconds" if I can say like that. And when I went to take the car back all old parts where tidy in the boot. Very kind team and professional 5 stars. For sure a place to visit for the next upgrades 🙂
Renato Silva
January 28, 2023
CarPlay install Mercedes E Coupe 2012
Great experience and very pleased with outcome.
It has updated my car to the point I won't be changing it for a very long time.
Highly impressed with attention to detail and respect to my pride and joy.
Their patience and knowledge is beyond reproach.
Big thanks to Neil and Barry.
Highly recommended
Martyn Mogge
January 13, 2023
Recommended
Need advice or even better supply of vehicle electronics look no further.
David Rowe
January 6, 2023
Carplay and reversing camera or W221 S Class
I had a HD reversing camera and Carplay fitted to my 2009 W221 S Class yesterday and I am delighted, not only the product but the efficiency and professionalism of Neil. I would highly recommend Braybrooks for anyone that wants this sort of work carried or any of the other services they offer as they are second to none. Thank you well worth the rip down from the West Midlands.
Stuart John Richards
January 4, 2023
TURBO VENTS WITH AMBIENT LIGHTING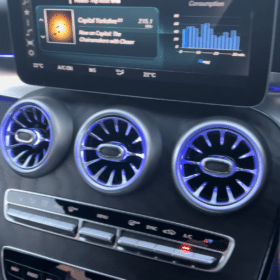 I had my FRONT, REAR AND DASH TRIM TURBO VENTS WITH AMBIENT LIGHTING installed today. Very happy with the work carried out. The lads are very friendly and helpful. Great job
Gavin Mawer
December 15, 2022
Large android carplay tablet
After some research, I discovered Braybrooks – a very professional set up. Neil and his colleague provided a great service, fitting the unit in quick time and explaining how it all worked. I did have a slight glitch but Neil very speedily provided a route to correct the settings without requiring another visit. It's a brilliant upgrade for my C class and brings it right up to date. A bit of a drive for me but well worth it. Thank you.
Jonathan
December 12, 2022
Most impressed
I was delighted to find that Braybrooks could retrofit Apple Carplay to my S class. The work was done to perfection; it took less time than estimated; and I am delighted with the result. Really glad I commissioned this work and would highly recommend.
Graham Mather
December 9, 2022
SL63 Failed CD/DVD Changer
I was pleased with the service. I came here because these guys know all about Mercedes so I had no worries about them pulling it apart…! 😁 job done very pleased 👍
Danny Darroux
November 24, 2022
Mercedes E63S Ambient lighting upgrade
Had the Air Vents replaced to the LED Turbo Fans and the LED Burmester Grills. The car was taken apart and put back perfectly and looks as it would out of the factory with the modifications. Really happy with the service.
Pete
November 23, 2022
Android Auto retrofit Mercedes C250 Coupe
Excellent service, installed perfectly and works flawlessly.
It was worth driving for a few hours to get their expertise.
James Brooks
November 22, 2022
Led vents
Excellent work beautiful finish and as promised. Neil is a gentleman and a man of his words including his assistant well mannered and experienced.
Joe NAHAB
November 22, 2022
W177 A Class Ambient Lighting
Fantastic team at Braybrooks retrofitted ambient lighting in my daughters A Class and she's absolutely thrilled with it. Bit of trek for us from Cheshire but definitely worth it and they deserve all the positive reviews and comments, highly recommend these guys.
Shaun Channing
November 18, 2022
CarPlay Activation
Recently had my CarPlay activated and the guy's here are so knowledgable, professional and great customer service. I can't rate them high enough. Thank you once again Neil and the team
Chris Wheatley
November 16, 2022
Tablet and CarPlay upgrade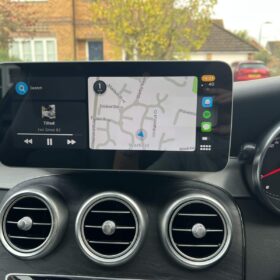 I contacted Neil with regards to updating my C class, Mercedes coupe W.205 With Apple CarPlay, Neil got straight back to me with several options, including links to the relevant pages on the Braybrook's website.
After asking numerous questions, all of which were answered with a clear and concise information, I chose to opt for a full screen tablet android solution replacing my cars original OEM screen.
Neil was incredibly accommodating managed to squeeze me into the workshop within a few days.
The work was completed in little over an hour and the cars infotainment system suddenly looked and felt bang up-to-date. Neil spent plenty of time, explaining the options and showed me how the system worked and made sure I knew what I was doing. Despite the flexibility, customisation and many options of the system it was actually very straightforward and logical to use.
I'm delighted with my purchase and the service I received., I absolutely will be returning for further audio upgrades as soon as the budget allows. I would fully recommend Neil and team to anyone looking to have experts work on their Mercedes.
Matt Allgood
November 2, 2022
MBUX SCREEN UPGRADE
Absolutely fantastic service, after speaking with a few company's… regarding the mbux screen upgrade from 2 small screens to the 2 large, after speaking with Neil & reading so many good reviews on Braybrooks…I decided to use them, I'm so glad I did and I could not refer Neil and his team enough, I'm so happy with the final result 👍👍👍👍
Wayne
November 1, 2022
Replacement auto folding towbar
Braybrooks supplied and fitted a new one to my Mercedes 350GLE at a reasonable price compared to a Mercedes dealer.
I am very pleased with the job. Neil and Baz are professionals.
ANDREW WHITBY
November 1, 2022
Apple CarPlay retrofit Mercedes C Class
Superb service from Neil fitting wireless Apple CarPlay to my c200
He explained the procedure beforehand when I first enquired, and managed to find a slot convenient for myself to drive to his workshop at short notice to install the unit in less than 45 minutes. He then took the time to explain the functions and answer some of my questions.
Professional 5* service
Can't recommend the company high enough and will certainly return for future upgrades.
Tim Clarke
October 27, 2022
Excellent service
I recently had my radio , sat nav and CD device refitted by Neil and the team at Braybrook . Although quite tricky to find the workshop had a space for me to work with free Wi-Fi and endless coffee . Neil and his team completed the work in good time which was dependent on Mercedes and for half the price . Would definitely recommend xx
Joy Kirby
October 26, 2022
V Class screen upgrade – Android Auto & Carplay
Recently had the screen in my V Class upgraded from 8.4in to 10.5in – my main objective was to get Android Auto for my V Class as maps were not getting updated anymore (unless I paid lots of £s to MB).
After speaking to Neil I became aware of (and ultimately decided to) upgrading the screen rather than just adding the box. This effectively brings my V Class up-to-date visually inside.
The work was carried out to high standard and it looks really well. Neil took the time to explain the operation of the system to me and sent the manual.
I am really pleased with the work – the screen looks excellent, it links up to the phone seamlessly and integrates well into the car. Certainly a worthwhile upgrade and done by the experts.
Kersten Muller
October 26, 2022
Head unit software update
Absolutely outstanding service. After talking and visiting several other garages only Neil and his team understood and fixed our issues. HIGHLY recommend Braybrooks services to anyone that needs assistance with their Mercedes retrofits, or software.
Milen Minchev
October 24, 2022
My replacement SLK radio
When no one would touch it, Braybrooks did with excellent results
Alan Williams
October 24, 2022
Mercedes A Class Ambient lighting
I spoke to Neil on the phone as was not sure this was going to work but to my amazement it worked really well . Very professional outfit nothing was a problem would not hesitate to recommend them .
Bruce
Bruce
October 21, 2022
Mercedes Dashcam Front and Rear
I have used Braybrooks before for a Heads Up Display. Once again Neil was professional and efficient in fitting the dash cams, he clearly is an expert. The install is neat and tidy and he took the time to talk me through the workings etc. A top Professional job at a good price.
Will be using them again shortly to fit a Dashcam to another vehicle.
Mark Brown
Mark Brown
October 20, 2022
The Best
Hi
I travelled from Somerset to have ambient lighting wireless phone charging and android screen fitted.
The best service and installation received from the team at Braybrooks thankyou
Nigel Chalmers
October 17, 2022
Android screen upgrade
I had android screen upgrade retro fit into my mercedes and very happy with the product and happy with the service that I received from Neil at Braybrooks
Stephen Longley
October 15, 2022
5 Star service, answering all my questions before hand
Brilliant service of Braybrooks.
Before going ahead, i inquired about installing android auto to my car where they answered all my questions whilst letting me go at my own pace.
I decided to book an appointment with them and in person, they showed me android auto/apple carplay screen to let me have a play around and see what it was like before going ahead. After this i decided i wanted to go ahead. The actual android auto box installation took around an hour and i was pleased with the results! 5 star service.
Amrit Matharu
October 11, 2022
Single Din Kenwood
Neil is extremely helpful and knowledgeable. I explained what i was after for my wife's Mini and he gave me options to choose from which made my choice of unit much easier. His communication is excellent as are his speedy response times, noting how busy he is. The workshop is very nice and he has taken time to ensure customers have the ability to work in a separate office with wifi, a really thoughtful touch. Overall if you are considering an audio install of any kind i highly recommended Braybrooks.
Jon Camilleri
September 26, 2022
Dash cam and power close doors
Having previously used Braybrooks to fit Parktronic and lingutronic systems to my previous Mercedes W211 E55 car, I recently approached Neil regards fitment of dash cam and power close doors to my wife's Mercedes R231 SL63, TBH, it was not without issue, but every thing was dealt with very swiftly and very professionally, their workshop is fantastic, we had total communication and liaison at every stage, and were kept updated on everything as it happened, something we really appreciated, and everything is as a Mercedes OEM fitting, we are very happy with all the work Braybrooks carried out here, and would recommend them highly, and will definitely return, Thank you Neil and Baz.
Ricky
September 26, 2022
CLA ambient lights
As usual excellent work by Neil and team.
Phil
September 22, 2022
E-Class Android Auto
Spoke to Neil after being recommended by Mercedes in Peterborough. He was very helpful on the phone initially, advising me of the cost, what was required, etc.
On the day it took less time than originally quoted, which was fantastic. Really friendly and helpful. And despite me asking lots of questions, was very patient as well.
Would definitely recommend and use again.
Andrew
September 2, 2022
Mercedes Benz Dash Cams
Having decided that I should have front and rear Mercedes Benz dash cams fitted to my E Class I checked out costs with my dealer and Braybrooks and the latter won the contract. Even though the round trip was 273 miles (at 72.4mpg that's not too high in cost) the saving was about £170. The installation was faultless, no visible wiring and they did it in less than 2 hours. An excellent job – well done.
John Bacon
July 29, 2022
Mercedes W169 Speedtronic Retrofit
The moment you step in into Braybrooks' workshop you get that rare and distinct feeling you are dealing with people who take pride in their work.
About the job:
– Brand new OEM parts were sourced from Germany within a week
– Retrofit completed in less than an hour
– Not a trace of a 'forced' job, all looks factory fitted
All my queries prior to the job were answered promptly and informatively.
Superb service, highly recommended!
Thank you so much!
D. S., London
July 23, 2022
V -Class
Impressed with the prompt and professional responses to my queries. Ordered Aux to USB adaptor for my V Class to enable connecting Pure DAB for my V Class. The device is amazing.. no hissing, crystal clear audio. Glad I ordered it. Definitely recommend. I will surely get other work done through Braybrooks in the near future.
Virupaksha Sadhunavar
July 13, 2022
Professional – Neat Workshop – Knowledgeable and Helpful!
My older model E class required a new radar sensor. I couldn't justify the new cost for OEM. Neil was happy for me to source a second hand part for them to fit. Very pleased with their service.
Mike K-J
July 6, 2022
Very professional workshop
Very professional workshop.Neil gave me professional and fast answers from start to finish. It only took me 30 minutes to complete the upgrade to the car play of my vehicle, and my vehicle did not add any hardware equipment. This is exactly what I want, I strongly Recommend this workshop, you will never be disappointed.
zheng
June 21, 2022
Excellent job
Recently had a head unit supplied by me fitted by Braybrooks. Very happy with the job. Tidy install and completed on time.
Even better, when I asked about changing speakers, etc I was told that my existing ones were fine as they were rather than being sold stuff I didn't need.
Would definitely recommend and use again.
Martin Preston
June 13, 2022
AppleCarPlay retrofit
Just had this installed today and am amazed with its versatility. The work was carried out professionally and efficiently and I would definitely recommend Braybrooks for installation. I had to come from SE London as nobody came close to the helpfulness of these guys …. Brilliant work thank you very much
Simon Morris
May 6, 2022
CLS Retrofits
I had a couple of options missing on my CLS which I wanted installed which were not all listed on the website. I contacted Neil to further discuss my requirements and Neil and his team were extremely helpful and did the research into the retrofits I wanted and confirmed they would be able to carry them out. I arranged a date for the work to be carried out which suited me and they provided me with a courtesy car whilst they had my car, it took 2 days for all 3 retrofits to be completed, I had tyre pressure monitoring system, auto boot close and ambient lighting installed. I was extremely pleased with the retrofits carried out but above all was really impressed with their professional and honest approach. I will definitely be using them again for future retrofits on my car. Thank you!
Zunaid Abba
April 22, 2022
Cameras on a Cabriolet
Nobody else had either the kit or apparently the expertise to fit a Dashcam to our car with a rear facing camera. Neil sorted it in a couple of hours and it wasn't raving expensive. We've been using it for a week or so now and are extremely happy with the unit and its features. Thank you Neil
Gary Briggs
April 12, 2022
IWC Clock Retrofit.
What a pleasant and professional company who did the fitting at a very reasonable cost. If you did not know otherwise you would think that it had been fitted when the car came off the production line 10 years ago. I would thoroughly recommend Braybrooks.
Martin John Norman
March 22, 2022
Carplay odb mercedes slc 2017
Excellent communications, after enquiring if product would work on my car Neil emailed me to say it most likely was suitable for my vehicle. And explained returns policy and other solutions. Ordered on Sunday delivered on Wednesday, installed in a few minutes no problems. Simple to install would recommend
Thank you
Terry Wood
February 23, 2022
Analogue clock harness
I had ordered a custom wiring loom for the analogue clock in my c300 from Neil and was glad I bought it because it works perfectly! I would definitely recommend purchasing from Braybrooks.
Amir Mahmood
February 20, 2022
E Class (W213) Front/Rear Dashcam
Neil at Braybrooks fitted a Mercedes front and rear dashcam to my E class. The installation is very discrete a very quick turnaround with instructions on use. The MMB CarPlay also supplied enhances the cars Apple carplay making it wireless, a must have addition. I would definitely recommend Braybrooks.
Nigel Pritchard
February 19, 2022
Excellent service
Just bought a Mercedes 2019 C220 coupe and had the ambient lighting upgraded from.the standard 3 factory installed colour's to 64 and installed by Neil and his team what can i say outstanding service and no messing about on the time factor all installed within the 4 hour time slot definitely be using again for more upgrades to my car
Well done
Neil and Team
Allan Low
January 21, 2022
SLK Reversing Camera
Just had a reversing camera fitted to my wife's SLK. Both the product fitted and the service from start to finish were exceptional.
Will definitely use again. Well done Neil and team.
Ray Whiteing
January 21, 2022
Alpine X903-DU2 – Excellent Work
I can only fully endorse the numerous positive comments made in the past.
The experience Neil and his team have shines through and the end to end customer experience has been first class. Neil guides you through the product options that would be right for your requirements (and at all price points) and is always up for a new challenge, as in my installation.
I have no hesitation in recommending Braybrooks
John Blanchfield
January 14, 2022
Android Screen for GLC
Had the new 10.25 Android car screen fitted to my GLC command system by Neil @ Braybrooks. Great tidy job, you wouldn't know he'd been in the car.
The team are polite, punctual and experts in their field. Your MB will be in safe hands. Great explanation of the work they had done and how to use your equipment.
Definitely recommend Braybrooks.
John Copson
January 13, 2022
Apple play
Recently had apple play put into my s class Mercedes'
Braybrook's we're brilliant
Very professional
The system is amazing
Strongly recommend this company
Great service
Steven magee
January 5, 2022
Dashcam
I was recommended to use Braybrooks by a few members of the Mercedes owners club. They fitted the dashcam to my e class and was impressed by the service, waiting room facilities and product tuition. I will be back to see them to fit a reversing camera. Great recommend.
Moises Cruickshank
December 20, 2021
SLK
I bought an SLK that had not had heated seats fitted and decided to go to
Braybrooks to have the job done with the correct equipment instead of doing it myself. I returned to collect the car earlier than told to miss the traffic. I had no idea how much was involved the seats were removed dismantled and rebuilt with the new heating elements the carpet lifted to put in the wiring and the dashboard switch panel replaced. It was a well executed process and completely checked after .
I'm very pleased I found them and would recommend their expertise and experience
Stuart King
November 30, 2021
Very Knowledgeable
I decided to entrust Neil for my Android screen upgrade for my 2016 Aclass after reading other peoples reviews,and glad I did.
Going for an OEM product would leave many wondering "would this fit my model" but Neil has all the answer's to all your questions.
The install was quick and professional and a detailed "how to" was given after installation.I did have a few issues,but that was down to what the unit does and how it does it so do your research first.
I bumped into a guy who had driven down from Leicester and myself from Norfolk so that's another testament to what Neil can offer.
If your thinking of upgrading think of Braybrooks,you won't be disappointed.
Lee Blackmore
November 19, 2021
Perfect
I was looking for a discreet dashcam front and back with no wires hanging about and Braybrooks did a perfect job. It was a fast installation while I waited. I'm really happy with the product and the fitting. I would highly recommend.
Paul Harris
October 15, 2021
Mercedes CLA
Wonderful service the fellas know exactly what their doing
Well worth the drive down.
Such a pleasure driving home with DAB | APPLE CAR PLAY — in my Mercedes CLA
No messing / no rattles after work was complete
Would highly recommend
THANK YOU
mathew mcquillan
October 13, 2021
prompt and efficient service
I had front and rear dash cams fitted to a new EQA Mercedes. Everything done to my satisfaction. Well done guys.
Gerald Hopkinson
October 12, 2021
Professional and efficient.
This is an excellent small business. I was having two monitors installed in the back of my Mercedes GLE, for the kids on the long journeys that my family frequently make.
Neil had expert knowledge of both the equipment that was needed (saving me £2000 over the OEM items) and the car itself, and its wiring systems. He had the whole rig wired up seamlessly and ready to go in around 4 hours.
It works a treat and it in inconceivable to me that it could be any better. I have the latest Rosen monitors that communicate with each other with 11 inch screens, the latest Android operating system, and it even includes 2 sets of wireless headphones and a built in DVD player, should it be required.
I cannot recommend Braybrooks highly enough. The service is thoroughly professional and courteous and the whole experience is thoroughly positive, and even charming, because of the tranquil rural setting, next to a field containing exotic pig breeds, ostriches, alpacas and unusual breeds of chicken. Should you need anything whatsoever installed in your car, look no further Neil Braybrooks is your man!
Ned Lambton
September 14, 2021
Apple CarPlay – C Series
Had apple car play fitted to C class, works perfectly. Would recommend Braybrooks to anyone considering upgrades to their Mercedes. Really great service. Thanks.
Paul Watson
September 2, 2021
Dashcam
Had front and rear dashcams fitted to my c class, installation went really smoothly and amazingly fast.
Would recommend Neil and team and would not hesitate to use again.
Andy Goddard
August 25, 2021
R172 Folding Mirrors and Parking sensors front/rear
Was a very easy process from initial call to getting the car booked in and worked on. The finished product is amazing and looks just like it came from the factory. Would definitely recommend this company and will use them again in the future.
Anthony Hughes
August 26, 2021
Mercedes C63S Heads up display
Had a retrofit Heads up Display fitted to my Mercedes C63S. Neil and his team clearly are very knowledgeable, pleasant and friendly and the quality of the retrofit was perfect. Neil kept me full informed as to progress. Really great service, definitely highly recommended, 5 stars.
Mark Brown
August 25, 2021
Reverse Camera
Braybrooks fitted my Mk 5 Golf with a reversing camera and a new Pioneer radio with a screen connected to the camera.
The work was of good quality and was completed in less than a day. The price was reasonable.
The set up has since worked well and was worth having done.
I would recommend Braybrooks.
Tim Cooray
August 7, 2021
Review
Excellent installation from Neil. Prompt service and no problem with answering my queries as I came to terms with my new tablet screen. Highly recommended
Allan Marchant
August 5, 2021
Android screen fitted to mercedes
Don't normally write reviews but felt had to, had android screen fitted to my c class 2016. At last Apple CarPlay and much more, workmanship of very high standards and Neil's exceptional knowledge of the products he uses and of your car. Have had the screen for nearly a month now and absolutely love it, had a couple of technical issue which Neil resolved with a quick phone call and even taught me a few things about my car I didn't know excellent service. Will definitely be recommending Neil and Braybrook's to friends and family
Adrian Parfitt
July 6, 2021
Brilliant Service saved thousands of £££
I have recently purchased a C220 to use as a daily driver and I managed to get myself a massive bargain as I knew Neil would be able to support in bringing my car into the 21st century.
I purchased a 58 plate vehicle without many mod cons and I brought it to Neil and within a day he had it feeling like a factory new car.
I saved so much money in this process and I couldn't be happier with the service.
The guys here are experts and are really helpful, if you're even considering making a change then I guarantee you'll get some value in reaching out.
Thanks Neil and co!
Adam Rowe
July 5, 2021
Saved me the expense of buying a new Merc
I was perfectly happy with my existing C-Class, except for one thing: I really wanted to be able to use Apple CarPlay. Neil fitted a unit for me quickly and efficiently, and saved me tens of thousands of pounds into the bargain!
Bob Apollo
June 17, 2021
Fantastic Service
BIG thank you to Neil for fitting a parking camera and folding mirrors on my car. Great service. Very friendly and efficient. Will definitely come back in the future and recommend to anyone and everyone!
Was
June 15, 2021
restored my faith in human nature
Some times in life it is sensible to travel that little bit further to get a professional to do the job.
trevor wells
June 9, 2021
Great service
I recently had a reversing camera fitted to my SLK 350. Quoted price was very competitive and the work was carried out within the timeframe advised and they also did me a favour in diagnosing an engine warning light. Definitely recommended.
Huw Davies
May 20, 2021
Mercedes Benz IWC Analogue Clock – SL R231
I had always wanted the Mercedes IWC Analogue Clock for my SL400. I read countless forums sites, spoke to Mercedes Benz dealers in Sydney Australia, dealt with a Mercedes retrofit business in Germany, all to no avail. Either too hard, impossible or exorbitant prices via Mercedes Benz Australia. I somehow found the Braybrooks In-Car Enhancements site, made the brief enquiry to Neil and all then was made possible. Very speedy and regular communications followed. The DIY kit was assembled by Neil, with full instructions and bespoke wiring harness to connect the clock to my SL. The kit then travelled from Welwyn UK to Sydney Australia in 3 days. The kit arrived in a Mercedes box with excellent level of packaging. It was exactly as ordered. Neil's instructions were perfect. Took my wife and I a couple of hours to disassemble and then reassemble the dash and console trim. A handy tip by Neil on how to thread the harness from the radio up to speaker grille area, was invaluable. Albeit one of the plugs did not want to come apart from the parking distance indicator. However, swearing at it in English, Australian and finally in German, seemed to do wonders. All worked out very well. Neil had been responsive and prompt with all queries. The finished product looks as it should, as if it had just left the factory. I have no hesitation in recommending to anyone in the world, Braybrooks In-Car Enhancements.
John Xerri
May 14, 2021
S212 Audio APS 50 Apple CarPlay and Reverse Camera
From the initial web contact form enquiries to the installation and beyond, Neil and Co had been most amazing to deal with.
The CarPlay and reverse camera for my 2010 S212 E-Class estate were installed in about 2.5 hours while I did some work in the comfortable waiting room equipped with desk, WiFi and beverages. Neil then took me through the pairing and basic functions of the CarPlay system before I left.
I enjoyed Waze and Spotify on my built-in APS50 screen and stereo all the way back to London, but it was only when I arrived home I found the screen was flickering when put in reverse and the camera angle was far too low. A call to Neil and an appointment was made the next day to return to fix the issue.
Upon my revisit, Neil quickly worked on my car and installed a new camera which corrected the flickering and view angle problems. Again, amazing work and professionalism.
On my way home, a little vibration noise was observed on certain road surface, which was most surprising as my car was solidly quiet after my first visit where the dash was taken apart and put together to install the CarPlay module.
I immediately returned to Braybrook and Neil dropped everything and attended me. After spending sometime on the car checking all fittings and a test drive with me, Neil identified my clip-on Dash-cam over the rear view mirror was loose and caused the noise… how embarrassing.
The attentive, personal and friendly services I received were most impressive and inspired great confidence in their work and aftersales service. I would definitely recommend Neil and his team to anyone.
Separately, the CarPlay system installed in mine has other functions. Digging into the settings, under Smartphones, one can switch between CarPlay and iOSMirror mode. In CarPlay mode, connected either wirelessly or via a cable, Apple's tight controls apply. However, in iOSMirror mode, which is cable only, the screen mirrors the iPhone, provided safely and responsibly parked, one can play YouTube, movies… etc in the car.
Franco C
May 8, 2021
Ambient Lighting- Mercedes CLA
A full days work undertaken professionally and gracefully. From the point of enquiry to the completion of work Neil and his team were phenomenal. They worked on my vehicle non stop from 9-6pm and I was amazed by the finished product. I attended the workshop with my young daughter and they made us feel comfortable and welcome throughout.
Thank you so much for your hard work.
The complements have been endless.
Irene
April 23, 2021
GLC TOW HOOK INSTALLATION
I wanted a removable Tow Hook fitted to be new GLC300e – Braybrooks were recommended to me by my Mercedes dealer. Dealing with Neil was a pleasure from start to finish – extremely polite and professional throughout from initial contact through ordering the parts, completing the job, reprogramming the car and even providing 'user training'. The finished job was completed to a very high standard. The use of the customer lounge/office to work for the day was invaluable and much appreciated. Thank you.
Peter Grinsted
April 22, 2021
Professional and Friendly
I've recently visited Braybrooks, Neil was excellent with his professional and friendly approach to my enquiry. Got me booked in quickly and looked after me very well. Nice and clean little workshop where he welcomed me with great smile and did what I went in for, I won't be mentioning what I had done for personal reasons however, he carefully upgraded my E-CLASS to my liking.
I'll definitely recommend Braybrooks for all your Mercedes upgrades as these guys are highly knowledgeable and their prices are affordable too.
Thank you and will remember to visit again for further upgrades.
Ricky
April 14, 2021
Air balance package
I wanted the air balance package fitted to my s-class. I asked Mercedes if they would be able to do it and they said they can't/won't do any retrofits. So I got in contact with Neil and he said that it could be done. Excellent service, very friendly and done the retrofit to a very high standard. The guys know the Mercedes cars inside out. Definitely worth the 3 hour drive. I would recommend Neil to anyone who wants any retrofit.
Martin T
April 10, 2021
Mercedes E class vent Ambient lights and 3D tweeters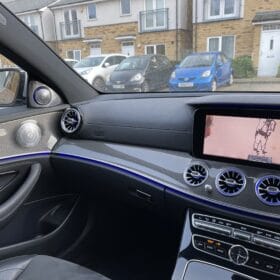 Very Professional from start to finish , Neil reserved all the parts for my Mercedes E class and installed it quickly and professionally. Very Happy with all the upgrades he did.
Installed AMBIENT LIGHTING TURBO VENTS FRONT & REAR and AMBIENT LIGHTING 3D TWEETERS
Many thanks.
Highly recommended!
HK
April 2, 2021
Professional staff and friendly service
Had my car in for a MB upgrade to larger screen and very pleased with result. Neil and his team is very professional, make work tidy and fast! Premises are also very clean and well organised.
Highly recommended!
Jelena Romanova
March 23, 2021
S class mercedes amp. replacement
Well worth the 3 hour ++ drive. Now have a sound system again.
Professional and knowledgeable service.
Highly recommended.
Alan Fory
March 17, 2021
SLK R172 retrofit – excellent service and workmanship
I wanted some of the 'toys' not included in the original spec:
Ambient lighting
Cameras
Illuminated Mercedes star
Illuminated door sills
Mercedes door mirror illuminated logo.
Dash cam
SLC tail lights
It was an excellent experience from start to finish. Very professional. Factory finish installations. Good price point…
Rob Cadman
March 3, 2021
Outstanding.
My e220 needed some work done,which was quite involved….but Neil made it look easy.If you couple his expertise with the fact that he is an extremely polite man,then its a no brainer for me.Five stars all the way for Braybrooks *****
Thankyou Neil.
Scott Warwick
February 25, 2021
New amp for my E Class
I had a fault with my stereo diagnosed in five minutes which Halfords couldn't diagnose in five hours. Simple when you know how and Neil knows how.
David Mendel
February 8, 2021
Powered Wing Mirrors great work
This is the second time I have asked Neil to fit Powered Wing Mirrors to a mercedes. The work on both occasions has been well executed with minimal fuss, efficiently and neatly.
I have no hesitation in recommending Neil to anyone.
PHIL
February 2, 2021
Mecedes A class 4matic Display Panel retrofit for Dual 10.25″ panel.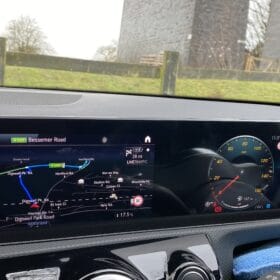 For a long time I was looking for a specialist who can retrofit my Mercedes A class Display Panel 10.25 "+ 7″ to a larger one, i.e. dual 10.25 "
As it turned out, many people are in a similar situation.
The information I came across was incomplete and misleading.
On A class Owner Forum, one piece of information excluded the other.
Finally I found a company that made this retrofit in my 1 year old car.
This was Neil Braybrook and his company.
He has extensive professional knowledge and cooperates with Mercedes.
The quote I got was very encouraging, the original Mercedes parts were delivered and everything was installed and checked.
I am very happy and I also passed it on to the A class Owner Forum, recommending Neil Braybrook as a professional and trustworthy person because what he does is also his passion.
Christopher Lecki
January 28, 2021
Tracker installation – SL63 AMG
I was directed to Braybrooks by my local Mercedes-Benz dealer as I needed a tracker fitted for insurance purposes.
An excellent and efficient service provided by Neil. I will be a returning customer, and I can recommend Neil's services without hesitation.
Ralph Thomas
January 29, 2021
Range Rover & Porsche 911
I needed to sort out malfunctioning entertainment and driver aids on my Range Rover. Neil went above and beyond to diagnose the problem and fix it without the need for new parts. We figured out we needed parts so we sat down and identified the cheapest source and bought them. The car is now brand new for less 300 pounds. I was so impressed with Neil's professionalism and good faith that I then asked him to do an ICE modernization on my Wife's Porsche 911 from 1999 (available from Porsche). We bought the kit but it wasn't that straightforward, Neil sorted out compatibility issues under acute time pressure as it was a Christmas gift. Really loved the honesty, knowledge, expertise, commitment to quality and delivery dates. Big Thanks!
Ben Maxwell
January 6, 2021
Car Play – Merc GLA
Incredibly fast and friendly assistance from start to finish with Braybrooks – had Apple CarPlay added to my Mercedes GLA within minutes and couldn't be happier – thank you
Lucas Yates
December 21, 2020
A200D
I had a wireless charger fitted to my wife's car, and Neil (Braybrook's) have done a fantastic job, and were were easy to deal with, would highly recommend if requiring a retrofit for your car.
Karl Marko
December 21, 2020
GLA premium 2020
Despite what the brochure clearly stares my MB retailer was unable to fit a tow bar to my new GLA premium.They recommended Braybrooks and after only four days (including a weekend) Neil arrived and fitted it "just like that" and you would not know he had been-wonderful.During the work no "pre installation" evidence was found.
Roger Finch
November 28, 2020
Retrofit Reversing Camera and Powered Folding Mirrors
When I bought my Mercedes Approved used CLA Shooting Brake recently, for me, these two important options were missing. My local independent Mercedes specialist recommended Braybrooks and despite it requiring a 240 mile round trip, I am very pleased with Neil's excellent and friendly work. The job was finished in less than a day and Neil even provided a courtesy car to help whilst I was waiting. Highly recommended!
Peter Mayes
October 27, 2020
Mercedes AMG C63S Retrofit Centre Console
Just had a carbon fibre centre console and aluminium door trims retrofitted to my Mercedes AMG C63S. The car originally came fitted with a grey oak open pore trim which looked very dated.
The car now looks fantastic, I am so pleased.
The installation was carried out while I waited and the quality of the workmanship is second to none – perfectly fitted, no rattles or squeaks. The whole process was very professional from start to finish. I would have no hesitation in recommending Neil and his company to anyone considering an upgrade or retrofit.
Many thanks.
Stephen Richards
October 19, 2020
SLk and Bosxter Retrofit CarPlay
I have used Neil on a couple of occasions to fit Carplay with DAB upgrade head units an SLK and a Boxster. As always the level of service and workmanship was excellent.
When it comes to automotive electronics you need not look anywhere else.
Thank you.
Chris Collard
October 19, 2020
Mercedes ⭐️
Great service from Neil yet again. Installed Mercedes Star to my E43.
Great workmanship & service.
Would highly recommend.
Nadeem Ghazanfar
October 18, 2020
The quintessential specialist
Bought a wireless Airplay module for my E350 (W213) which turned out to have a few niggles. Neil straight away gave me the options of a replacement or full refund.
Drove across to him and glad I did- Neil was knee deep in sorting another happy customer's C63 and paused to replace my adaptor. I cheekily asked him if he might have the time to hardwire my new Dash Cam which he was kind enough to expertly do and then even knocked some money off to compensate for my trip to him.
Think I'll be back for more stuff soon 😉 and obviously thoroughly recommend him.
prithvi singh
October 14, 2020
An absolute 5 Star service from start to finish.. 100% Satisfaction.
I contacted Neil regarding apple car play in my 2018 Mercedes E Class. I found Neil 10 times more helpful than Mercedes themselves, who said that I 'Cannot' have Apple car play in my car.. Cue Mr Braybrook saying "Yes you can". Neil checked my VIN and confirmed I could have the retro fit for Apple Car Play with no loss of functionality. I'm based in the Midlands and Neil even arranged for me to pop into a partner location to complete the install. This was also a fantastic service by very friendly people, Dan at WMD cars in Walsall was incredibly helpful. Couldn't recommend Neil and the team enough. Top Marks
Jay Brittain
October 13, 2020
E53 AMG Lights & Rear Entertainment
I Contacted Neil with my Requests and Requirements and Straightaway Neil informed me of what was Needed!..I asked For Rear Entertainment Sockets,..Rear Entertainment Screens,.and a Complete Set Of Ambient Vent Lights and Complete Ambient Speaker Lights,.i Also Asked for Side Mirror Welcome Lights to be Fitted!..We Arranged for the car to be dropped off and Neil Drove me to and From the Train Station..Neil Had My car for a Total of 2 days,.with Great Security,.and When I Went to Pick up my Car,..Everything I asked For Was Complete in Every Professional way Possible,.and All the Work Has Been Amazing!..I Strongly Recommend Braybrooks In-car Enhancements..
Thank you Neil
Mark Powell
October 2, 2020
Apple CarPlay Mercedes E Class Coupe
Just finished installing this unit into my 2013 Mercedes E Class Coupe, what a transformation it has made to the car, absolutely fantastic and works really well..proud of installing it myself..well maybe with a bit of phone support from Neil..Put some photos on insta and already Ive had 3 queries where I got it! Thanks again Neil its brilliant
Niall Sharkey
October 1, 2020
Safer SL
Neil fitted a bluetooth DAB system in my old SL – now I can make calls safely while on the move and stop fiddling with the radio when I lose signal. He did it at less than a week's notice, it took a short time to do, and it looks and sounds great. Great job!
Rob Hancock
September 28, 2020
BMW Retrofit CarPlay
After purchasing my BMW recently, I realised something was missing – the entertainment system didn't have navigation nor was it able to seamlessly send text messages / WhatsApp messages on the go. I did some research and found that Apple CarPlay would solve all of my needs (and wants!)
I found Braybrooks which was just 9 miles from where I'm based. I emailed Neil with an enquiry and heard back very quickly. Neil answered questions I had and was very flexible on booking an appointment. When I arrived, Neil was welcoming and began working on my upgrade straight away. I was happily surprised how quick and clean the install took! Followed up with a demonstration and full explanation of how CarPlay works. I am overly impressed with everything start to finish! If I need any further upgrades, I won't hesitate to come back to Braybrooks for the work! Thank you so much.
Billy W
September 26, 2020
Mercedes E220d Carplay
Hi
Just had my Mercedes E Class 4 WD fitted with CarPlay by Neil. Excellent job done with 100% results. Full demo done with some extra advice. Just as I was leaving decided to have the wireless option fitted. Again no problem. Very Happy man
Thanks again Neil.
John Gowans
September 23, 2020
Marco Polo table instalation
I have 12 yr old girl with Special needs who needed the Mercedes made telescopic folding table facility in our new V class Marco Polo Horizon. It isnt standard UK spec as UK models dont come with the seating rails to accommodate the sliding table mountings. Mercedes where typically unhelpful and said even if I managed to get the right rails they wouldnt fit them. Enter Braybrooks……
Neil quickly sourced the correct rails from Germany and fitted them with precision in just a couple of hours. The table duly slid into place perfectly and now I have the facility of a professionally fitted but removable table in my Horizon. An option that should be available for the UK market for a camper van not just Germany. My girl Ava loves it as she is able to put her activity just in front of her during a journey. With the front seats turned round it also made for a very useful little family picnic table last time we got fish and chips together and it was pouring down ! A big thanks to Neil for his effort and great service. Well worth the 350 mile round trip. I recommend Braybrooks to anyone. Just brilliant.
Michael Coates
September 23, 2020
S-Class Driver memory seats
Mercedes said my car (2013 S-class) could NOT have a memory seat upgrade !
Thanks to BRAYBROOKS, I now have memory seats which took about one hour to fit! Always very efficient and polite – this is about the third or fourth upgrade Neil has done for me – Highly recommended……
Peter Wilson
September 17, 2020
CarPlay retrofit ????
Brilliant and fast installation of my CarPlay retrofit on my GLC63S. Dropped the car off and the work was complete in under an hour. Neil was super helpful by email beforehand and explained how everything worked afterwards. If you're looking for a Mercedes specialist to retrofit CarPlay for you, look no further.
Jon
August 28, 2020
Vito W638
Took my old Vito into Neil, It had all the symptoms of "old and Kanckered" in the audio department.
One look and 5 minutes later Neil said "we can sort that" full quote with item breakdown emailed that evening .
Have since had all work done.. The M25 is not so bad a commute now.
Thanks Neil.
Terry Curran
August 20, 2020
SLC 2017 Retrofits
After a few days of driving, everything Braybrooks installed is working perfectly. Ambient lighting makes the car a relaxing environment to drive during the evenings, Apple Car Play is much easier than using a traditional sat nav and the new Dashcam turns on and off with the ignition. When it comes to cost, Braybrooks are very reasonable with their labor charges and the quality is so professional. Neil is also flexible when it comes to drop off and pick up times, which is really helpful. Thank you so much Braybrooks, I will be back!
Ray S.
August 10, 2020
SLC 250d
I would like to say thank you to Braybrooks for their hard work. They installed ambient lighting, AppleCarplay and a Dashcam in no time at all. You wouldn't know anyone had been in the car. Neil is flexible when it comes to dropping off and collection, which was very much appreciated. Five star service. Once again thank you.
Ray
August 7, 2020
Apple CarPlay At Last
Finally able to use Apple CarPlay in my vehicle thanks to the upgrade supplied & fitted by Braybrooks. Quick & efficient service. Would certainly recommend.
Thomas Isidore
August 6, 2020
Quality Retrofits
I have used Neil at Braybrooks several times now for repeat business. His products and services are excellent as is the quality of his work.
Thank you
Mark hopcraft
July 31, 2020
Professional, Competent and Personal Service at a fair and honest price.
The Command system on my elderly but pristine Mercedes E Class failed completely. Nothing but a black screen and transient logo. I was unhappy with both the diagnosis and the very high quote from my local dealer. The dealer had the vehicle for 2 days and told me that a technician spent several hours trying to find the fault.
Neil pinpointed the problem in 10 minutes, replaced a component from refurbished stock and had the system reassembled and in full operation inside of an hour.
I was absolutely delighted!
Lewis Wasserstein
July 27, 2020
Outstanding Service
I had Mercedes Dashcam Front and Rear, and Homelink Mirror retrofitted to my Mercedes GLS 2020. Neil is exceptionally knowledgeable and provides a truly excellent and outstanding service to his customers. A genuinely lovely and honest character. Very reasonable pricing and the standard of work and craftsmanship is first class. I would highly recommend that you look no further for any Mercedes Retrofits. Great job! Very happy customer and will definitely be back for more upgrades! Thank you Neil.
Craig Bull
July 23, 2020
Thank you
I suppose when someone been installing for years then the quality of work will be an exceptionally high standard.
But I want to compliment Neil, he is very helpful, friendly and patient.The pricing of his product very fair.
Thank you Neil.
Ashish Chakraborty
July 22, 2020
Mercedes GLC retractable tow bar
Wanted OEM retractible tow bar retro fitted. Neil sourced all the parts and fitted to a factory spec finish. Very happy client.
Next project under discussion.
Philip
Philip Bell-Mann
July 19, 2020
Android Tablet Mercedes C Class
I was getting bored of my C Class until I found Neil who could retrofit the smartest tablet style screen in my Mercedes! Absolutely love it! He let me use his office space for an hour and a half to catch up with work while he completed the installation. I will be recommending Neil & Braybrook's to my friends & family and will be back soon! Thank you!
Haroon Sajid
July 16, 2020
Burmester for S class
Having just acquired a Mercedes S class I was disappointed with the quality of the standard Mercedes sound system. I therefore decided to upgrade it to a Burmester system. It is expensive but considerably less so than Mercedes by using Braybrooks and the quality of the workmanship is second to none. Perfectly fitted; no squeaks or rattles and an exceptional top of the range sound.
It was well worth the cost and the 720 miles round trips
(half of which were in the courtesy car supplied by Braybrooks).
If you need a Mercedes retrofit or upgrade I would have no hesitation in recommending Neil and his company.
David Ticehurst
July 10, 2020
CarPlay on S Class Cabriolet (W222)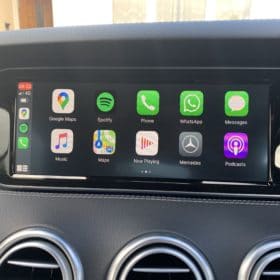 Lengthy research into various options led me to Braybrooks for a CarPlay retrofit installation to my new S Class Cabriolet (COMAND NTG5*2). All additional equipment is completely hidden behind centre-console and the integration with original car controls is excellent. I wasn't sure what to expect from an aftermarket solution, but the result is fantastic. Very happy!
By chance, I got a call from my dad while I was there, told him where I was, and turned out he'd been 10 years earlier to have a phone integration and parking sensors added to his R129 Mercedes SL, which he was still using!
Ben Spector
July 5, 2020
CarPlay for E class
CarPlay installed in my 2015 E Class in a matter of minutes. Wireless too! Neil was excellent throughout and answered any questions I had. Well worth the trip.
Martin Ryder
July 2, 2020
SLK Parking Sensors
Great contact with Neil before he came out, answering all my questions. Did a fantastic job fitting front and rear parking sensors which look great and are just like a factory fit. Excellent service and great workmanship, I definitely recommend.
Matt Monksfield
June 6, 2020
Classic Porsche and Blaupunkt Bremen SQR 46 DAB BT
After I swapped my DAB Radio in my classic car I had very bad reception. Having used Neil's for my others vehicle I asked if I could bring it in for him to sort out. He advised that I should check a few items, which should hopefully resolve the issue before bringing it in. He was right, these solved the problem.
Neil's knowledge of all this audio is beyond compare, a true honest and caring professional.
Thank You
Christopher Collard
May 17, 2020
Retrofit OE Reversing Camera
Retro fit Original Equipment reversing camera to 2020 SLC FINAL EDITION.
Due to restricted vision, I found reversing this car almost impossible, so after only 4 days.of ownership I approached my supplying MB Dealer to quote me for supplying and fitting an OE Reversing Camera but even prior to the temporary closure of the Dealership because of the Pandemic, I have received no communication from them whatsoever. No Stars MERCEDES Benz!
I searched on line in the hope I would be able to find a competent installer who could meet my exacting requirements. The Brief was to supply and install a Genuine MERCEDES Benz reversing camera and install to Factory Specifications. The best days work I ever did was to discover Braybrooks Web Site and it was quite apparent from our opening conversation they knew MERCEDES Benz inside out! With the installation completed, their Computer was connected to the car, all the changes checked for compliance and Submitted to MERCEDES BENZ, Germany for addition to my car's Factory History. Amongst other things, this ensures that this Camera Installation is covered by the MERCEDES two year Warranty. Five Stars BRAYBROOKS!
PS. Neil and James also fixed a rattle in the drivers door being the result of an loose screw and fitted a DC supply in readiness for a Dash Cam. Six Stars Neil and James….. Thank you so much.
Ian Brooks
April 22, 2020
Had retro fitted rear and front parking sensors and motorised mirrors on 68 CLA. I was a little concerned that rear sensors meant drilling into my bumper. An excellent job was completed in several hours at my home and I am extremely pleased with the overall look and functionality. Highly recommend Neil.
Paul Cutler
March 30, 2020
Apple Car Play added quickly and seamlessly. Neil is a great guy and I would totally recommend
Matthew Jenkins
March 20, 2020
Our 2017 A Class came with most extras but electric folding mirrors was not amongst them. We had looked to maybe change the car but as we really like it decided it would be far cheaper to have the mirrors 'electrified'. We were put on to Neil by Peterborough Mercedes and after initial contact he was able to fit us in very quickly. I imagined the car would be in for at least a day but Neil seems to have perfected the art of swopping manual mirrors to automatic ones and does the job in approximately an hour, updating everything on the car and it's records at the same time. Additionally, the lighting was not the best and despite MB stating that changing bulbs was relatively easy it defeated me, again Neil came to the rescue and both high and low beams (inc running lights) are now much brighter.
Not a cheap conversion due to the cost of MB parts but a job well done, mirrors now fold when the car is locked and rather than opening out when the car is unlocked do so when one or other of the doors is opened – love it! Oh yes, and we can see where we are going now as well! Our thanks to Neil for the work that was carried out professionally and on time.
Alan Woodley
January 15, 2020
I recently purchased a new Mercedes AMG GLS63, it was pre-configured by Mercedes Brooklands and although I wanted an electric tow-bar the configuration could not be changed. I requested a price for a retro fit from Mercedes who quoted a ridiculous amount and claimed there would be a delay in the supply of one of the parts. However, it was no problem for Braybrooks who supplied the parts promptly and completed the installation to better than factory fit, quickly and efficiently and for a very reasonable price. Neil even found the time to drop me off at the local station and to pick me up again when I collected the car.
I was so pleased with Neil's work that I asked if he could fit a HUD, this was a retro fit of an original Mercedes unit. I sourced the unit (Neil now has all the part numbers), this was the first time Neil has installed this type of HUD and it required the removal of the dash and the cutting of a hole in the top of the dash. Nevertheless the work was completed to a very high standard, ahead of schedule and again for a very reasonable price. The real 'acid test' is that after refitting the dash there are absolutely no rattles or squeaks so a first class job. I would have no hesitation in recommending Braybrooks, great work and many thanks Neil.
David Jackson
December 30, 2019
Having recently acquired my SLK R171, I wanted to upgrade the standard Comand audio unit. Having researched various Merc forums Neil at Braybrook's came highly recommended.
He didn't disappoint. His knowledge and professionalism during the initial enquiry through to the installation was top class.
I'm now planning to take my Boxster to Braybrook's for a similar upgrade.
Thank you
Chris Collard
December 12, 2019
Neil retro fitted folding mirrors and analogue clock to my SLK55 AMG. Did a brilliant no hassle job in just a couple of hours. Highly professional service. Will definitely use again should the opportunity arise. Highly recommended.
Jeremy Hatton
December 11, 2019
Neil at Braybrooks manges to reach the parts other specialists can't reach.
Despite having been told it couldn't be done, Neil installed Apple CarPlay quickly and reasonably.
Neil
November 28, 2019
Neil at Braybrooks is "one of a kind"!
I doubt if there is anything he cannot fix and I am thorougly impressed.
I will always go back to him instead of the MB main dealers.
Philip Lewis
October 23, 2019
Neil did a great job. I can say no more, a great chap to have around. A competitive price.
Stuart Richardson
October 3, 2019
After purchasing my early 2013 Mercedes ML250, i looked into getting Apple car play, was dissapointed in that Mercedes did'nt do a retrofit, so ventured onto the great world wide web, to find various aftermarket products that could do the job, after seeing some scary video's of retrofits, found Braybrookes website and dropped Neil an E-mail and arranged a visit to his interestingly situated workshop, as previous people have said, Neil knows alot about Mercedes, and carried out my apple car play retrofit with ease, more than happy with the result, returned home chatting to Siri…..
Steve Richardson
October 2, 2019
Since buying my Mercedes GLC and realising there are a few extras that I had on my previous car and did not have on this one, namely Apple CarPlay and Head Up Display, I found Braybrooks via a google search online.
After an initial chat with Neil who I found to be extremely knowledgeable about my car and what he could do for me, I went to his place of work to get the CarPlay fitted. This by the way I was told by another company was impossible…
Neil did a fantastic job to an extremely high standard and approved by Mercedes which was very impressive so I looked into more that I could have done. So now I've had wood trim in the doors and dash added along with Burmester tweeters, safety cameras front and rear & a Mercedes upgraded grill with illuminated Mercedes badge. The HUD will be done in due course when parts are delivered by Mercedes. Anyone looking to get original Mercedes options retrofitted to their car should look no further than engaging Neil and his company to undertake the work.
Elliot Rice
June 7, 2019
Travelled down from Derby to have a genuine MB reversing camera fitted to my E Class Coupe and have to say well worth the trip. Excellent first class friendly service and bang on the estimated time to install.
Many thanks
Chris S
May 7, 2019
I wanted't have android auto on my SLC and after speaking to Neil he recommended the ODB Activation Adapter. It arrived the next day and works perfectly. Great service – thank you!!
DJP
April 6, 2019
Had DAB antenna fitted on my E 350 AMG, good job very professional easy to get on with.
Would recommend Neil probably knows more about Mercedes than they do themselves.
Many Thanks
Les Mates
April 2, 2019
I wanted front and rear parking sensors fitted to my CLA 200 Shootingbrake. The Braybrooks website was easy to use and the testimonials page is evidence of previous happy customers. After a few e mails Neil came and did the job at my house. He was on time and it was all done in 2 hours. The quality of workmanship is top class, the components are Mercedes quality (but not MB price) and I'm delighted with the finished outcome. You'd never know it was not factory fitted !
Neil is professional, efficient and knows his trade inside out. Would not hesitate to recommend him if you want any retrofit jobs done.
Andy Manners
March 19, 2019
Wanted cruise control fitted to my 2015 b180 searched internet and everybody said that they didn't have anything to fit that model. Contacted a guy in Brigg North Lincs who specialise in Mercedes repairs who said they couldn't do it because didn't have the software.He gave me Neil's website. I contacted Neil who said it was no problem and he could do it. We arranged a date I took the car to him and asked how long, 45 minutes was his reply and he was true to his word. Neil did a great job, well worth the 300 mile round trip and I would recommend him to anybody.
Dave Sidaway
March 5, 2019
The comand unit in my R171b SLK was shot and while I originally wanted it replaced Neil persuaded me to put in a Pioneer head unit which gave me Apple carplay, a much be sound quality and a number of other features that weren't part of comand.
Glad I went to Braybrooks.
Ed Mullan
February 25, 2019
Well worth a 505 mile round trip! After extensive research and careful reading of reviews, Braybrooks seemed to be the most capable of fitting a reversing camera and front sensors for our 250SLK. Neil is very professional – prompt and accurate on timings and meticulous in the fitting.
Peter Standfield
February 20, 2019
I contacted Neil to enquire about having a reversing camera fitted to my E-Class. Throughout the conversation he was very knowledgeable and professional. I was really impressed with thr fact that Neil opened on a Saturday just to do my car. As i was travelling from the Midlands the weekend appointment suited. In the end, very happy with the job and i would definitely use him again! Worth the 200 mile round trip!
Sunny
January 22, 2019
We are a very busy leasing company and needed to supply our customer with a upgrade to add Apple Car Play to his new Mercedes. I contacted Neil in November to discuss and agreed a price. Today contact them as the customers car has been delivered and within no time the unit was on its way. Priceless service thank you for your extensive knowledge.
Clive
January 9, 2019
Sytner Milton Keynes referred me to Braybrooks for supply and fit of folding mirrors to my A Class. Neil provided an efficient and professional service, coming to my home at a convenient time for myself to fit the mirrors. I am so happy that my car now has folding mirrors, I now feel my car is complete. A small upgrade but worth it!
Nicola Beckley-Wade
December 21, 2018
Neil did a fantastic job of fitting CarPlay into my Mercedes C Class cabriolet.
I am so happy to have CarPlay at last in my car as it was the one real important  feature that I can't do without and which was missing.
Neil was superb throughout from my initial enquiry's and ultimate fitting.
A superb and totally pro and clean install.
Well happy and will deal with again if I ever need any other jobs undertaking in the future.
It was well worth the 300 mile round trip from the West Midlands to Neil's workshop.
Again, thanks so much Neil !!! ???? ????
Alf
October 30, 2018
Super happy they did a fantastic job replacing the centre console on my C 43 and also fitting CarPlay which I am over the moon about. A true professional good experience and good value.
Raphael Phillips
October 25, 2018
I went to Braybrooks to get parking sensors installed in my GLC
Was very happy with the price quoted and work done.
Would highly recommend Neil and will definitely use Braybrooks again!
Aghi
October 20, 2018
I contacted a number of Mercedes dealers in my area about a folding door mirror retrofit for my ML.
The answer – No we don't do any retrofit. Contacted Neil at Braybrooks, Neil Checked my car information and said no problems we can do it. Took me 4 hours to get to The workshop and was
told it would take an hour or so to complete the work,Neil promised to text me when the car was ready to pick up.There is a place just round the corner called the Country bumpkin so ordered food and a drink. Very enjoyable. Then the call came to pick up my car.very lmpressed with the service I received would definitely recommend to anyone wanting Mercedes retrofit this guy is a genius. Thank you Neil.
David
August 3, 2018
Neil is very is incredibly helpful and professional I would not hesitate to recommend him to others.
Philip Bull
July 30, 2018
How refreshing to come across a business that is excited about solutions, not problems. I approached Mercedes to transfer an OEM swivel towbar – too difficult and complicated for them. However Neil relished the challenge and the end result is perfect and done quickly and at good value.
Neil Sandberg
July 27, 2018
I recently purchased a Mercedes ML63 AMG (W164) and wanted to get heated rear seats fitted as they were one of the few options not factory fitted on the vehicle.
Neil assured me he could retro fit these as they would have been fitted at the factory, I was not disappointed Neil did a great job and while he had the vehicle for the day he also did a command software update, a Sat Nav Maps update and fitted illuminated AMG Door sills. All done with great expertise, I would recommend Braybrooks to anyone with a Mercedes who wants a quality job doing. a pleasure to deal with and well worth the 200 mile round trip.
Thanks Neil I am sure I will be back in the future.
Mark
June 18, 2018
Top bloke. Couldn't have been more helpful. This firm "does exactly what it says on the tin"……. ????
Darren
May 11, 2018
I very rarely leave feedback and only do so when I have had the pleasure of first class service.
What can I say, from my initial email up to and including seeing Neil at his workshop, I have nothing but praise for Neil's constant communication and workmanship on retro fitting and converting existing wiring to accommodate a new subwoofer for my Smart Car.
I would have no hesitation in recommending Neil, and would happily have him work on my prize possession that is my Range Rover Westminster.
Thank you Neil!!
Clinton
April 12, 2018
Quality service & extremely friendly
I recently purchased a AMG C63 W204 with the standard sound system. After hearing another car with the Upgraded sound system I knew that I had to have this installed some way or the other. After researching for some time, I came across Braybrook's and was genuinely surprised after speaking to Neil that they could retrofit the HK system. Not only did Neil professionally install the HK sound system, he also provided me with a loan car I could travel back with 200 miles away, whilst the car was in the workshop. Genuinely friendly guy and work carried out was most professional. Car was returned back to me washed/cleaned and with no issues whatsoever.
Neil was also very flexible with schedules etc (we had some bad weather and had to cancel last minute and consequently re-arranged for the following week)
I would recommend Neil and Braybrook's to anyone who requires their services.
It's  rare to find this level of service with such a friendly customer service.
Keep up the good work!!!
Vip
March 31, 2018
Neil fitted folding mirrors to my CLA, this was done while I waited at the arranged time.
Carried out to a professional standard, you would not know the car had been touched.
Finishes the car off to how I want it.
If you need any parts fitted to your Mercedes speak to Neil.
You can't go wrong.
Tony Hunt
March 17, 2018
Stand Out Service & Knowledge
I had recently bought an E Class Cab from my local Mercedes-Benz retailer. It was the Retailer Sales Executive who put me in touch with Neil saying that the MB Tow Bar I was after was going to be "silly money".
As it happens the MB solution isn't available on my car at the time of writing and Neil was outstanding in researching all of the options for me (incl the MB option) having sent Neil a pic of the bumper with the AMG under-part (what ever it's called!).
Neil turned up at my house and fitted the TowBar without any fuss AND on March 1st 2017 which was subzero temperatures (-5) which was a big wipeout day for the UK.
He cleaned up and left me with an outstanding product for us to attach a bike rack to.
I would recommend Neil and Braybrooks unreservedly. Quite outstanding in an age of slipping service standards. And thank you to Ged Woodward at Robinsons Mercedes-Benz for the introduction.
Very happy customer.
Stephen Bell
March 2, 2018
Neil is most professional. All you need to know.
Jonathan Davis
March 1, 2018
My 2013 E Class, did not come with a reversing camera. Bugger that was a pain, that I needed to overcome. I heard about Neil through the Mercedes Benz guy Steve, in Hendon. He spoke very highly about Braybrooks and their expertise. I spoke with Neil and he talked me through all the various, Reversing Cameras, I chose to have a Mercedes Benz original specification camera installed. Neil arrived promptly and on time, the work was clean and neat and the camera works perfectly. Now I have to get used to using it. great work, excellent service. I would not hesitate to recommend them, every time.
Ade Ogunleye
February 15, 2018
I needed a replacement stereo to include Bluetooth for my 2007 W211 E class.
On the recommendation of two Mercedes dealerships I contacted Neil.
I wanted someone to do the job who knew what he was doing and wouldn't butcher the inside of my car.
I certainly wasn't disappointed. I got the impression Neil could have done this job blindfold.
Massively impressed, top job , great communication, very punctual, would recommend without hesitation.
Warren Rhodes
February 1, 2018
Big thanks to Neil for sorting out a retro-fit ISOFix for my wife's Merc, its a more modern version that allows the fixing to swing out when needed.
Its a good value genuine piece of kit that arrived quickly and is an easy DIY fit, back set out, bolt & nut fixing, back seat in according to you tube
https://www.youtube.com/watch?v=T03CC0I4_eo
We now can borrow the Grandchildren for visits safe in the knowledge they are protected whilst travelling, cheers Neil
Will
December 15, 2017
Having used Braybrooks twice so far, I find Neil remarkable for 3 criteria.
Firstly, he is quite patently an expert at what he does. His work is immaculate and once complete, indistinguishable from a factory installation.
Secondly, he is very responsive. He is far quicker than most at replying to phone calls or emails, and is always happy to give a progress update on how things are going.
Thirdly, he enjoys a challenge. Should you propose a retrofit so exotic that the details are not readily available anywhere, he is happily willing to research it open-mindedly to investigate further, even if ultimately the recommendation is that it will not work.
I would highly recommend him & his company.
One word of warning: Should you need to bring your car to his workshop, it can be rather tricky to find the correct turning. While near the cafe/tea-room, that is not the right entrance.
Dan
December 10, 2017
I recently bought a W211 E270 CDI that unfortunately did not come with factory fitted Isofix brackets, after making 20-30 phone calls to various different breakers and some other Mercedes specialists I was running out of ideas and came close to selling the car.
However, after spending some time online researching "Mercedes retrofit", Braybrooks came out top and I gave them a call based on the reviews I had seen. Neil was an absolute pleasure to deal with and I will definitely be using him again / recommending him to anyone that needs help with a Mercedes.
A lifesaver!
Rob Samuel
November 17, 2017
I have just had Speed Limit Assist retro fitted to my Mercedes E350 by Neil. As ever, he did an excellent job. I have used Neil 3 time previously (2x ipod kits and 1x reversing camera). His work is of the highest standards (equivalent to factory standard in my opinion) and his level of service is excellent. I find his prices are reasonable and I would happily use him again ata some stage in the future.
Mark Hopcraft
November 15, 2017
The Apple Carplay Activator works!  Simple install, just follow the instructions.  Great job done.  After being turned away by the MB dealer for upgrading our Audio20 on our 2016 B Class (W246) the Braybrooks product gave me the confidence instead of trying some of the dubious offerings on the internet.  Now we have navigation, via the iPhone, through CarPlay, safe and easy.  Fully recommended.
Julian Harland
November 13, 2017
Went to Neil to get front and rear parking sensor in my mercedes GLA after th dealer say they can't get parking sensor done on my car. After research several place I went to Braybrooks after as most of them want to take the bumper off which I didn't like that idea. Got there at 12pm and it was done at 2.30pm without taking the bumper off my car. It was worth the two hours drive and the parking sensors work brilliant and look just like the one that come with the car. Am satisfied with ththe job. Will definitely recommend Braybrooks to anyone.
Pougee Ann Hoang
November 2, 2017
Had just bought mercedes A class and realized that it did not have parking sensors. The MB guys said they don't retrofit this for A class and recommended braybrooks. And I am satisfied with the job. They came to my place, took about 90 minutes to completely finish the job- start to finish !! I know whom to contact for stuff that even MB guys can't do on mercedes. Thanks Neil. Would definitely recommend Braybrooks.
Dr Gaurav Malhotra
September 1, 2017
Mercedes S Class (W222) 2017 model
When my new S Class arrived in March (ordered from UK stock) with almost every extra including soft-close doors and trunk I was so disappointed it did not have the remote trunk closing facility my previous CLS had had. The dealer told it was not a standard item and it was not possible to retro-fit this. Neil @ Braybrooks was happy to do the conversion for me which was going to take 24 hours to fit, make the new wiring harness and to fit into the car and reset on the computer diagnostics etc.. I am delighted with the conversion and the quality of the work and the overall experience. There was a slight delay in collecting the car but Neil kept me fully informed in advance,so we were able to have an extra long breakfast and coffee before setting of the pick up the car. It was a long 190 mile journey each way from Chester to Stevenage but well worth the effort – thank you Neil.
Philip Smith
August 9, 2017
Simply…. brilliant. A perfect install, reasonably priced and done when they said it would be. I have a funny feeling I will using them a lot more…
Don Gibson
July 27, 2017
I had reverving sensors fitted Neil arrived on time and the work was very professional and works very well. I could recommend Neil and Braybrooks to every one. Thanks a lot.
David Mapley
June 1, 2017
After some long discussions with Mercedes that cruise control could not be retrofitted to a 2012 B180cdi, I stumbled across a Braybrooks advert. I was pleasantly surprised that it was indeed possible and relatively straight forward. Neil arrived promptly on time and was very efficient in the retrofit. It all works perfectly and looks as if it had been factory fitted. I would highly recommend the customer service, communications, the fitting and will definitely be in touch when required.
Dennis de Kloe
May 12, 2017
Mr Neil Braybrook!
I was recommended initially by a Mercedes agent as I wanted some extras fitted that they said they could not/or would not do .
That was several years ago now, and as I'm lucky enough to have more than one Mercedes, I use Neil whenever I need something sorting/fitting to my cars. Always extremely polite, a gentleman in fact, and as I am in the vehicle business myself, do not know anyone who knows more than Neil regarding Comand/ in car DAB, telephones etc, etc. great guy, superb engineer, and top quality, and no I'm not related, just a really grateful and satisfied client. What MB cannot do, Neil can!
David Crawford
March 8, 2017
Requested comand , dab and reverse camera for mercedes SLK r171 and reverse cam for Bmw 5 series E60. Neil did the installation , which required  a second visit. Neil was very friendly and installation was excellent. It is correct to say installation was as if it was fitted during manufacture.  I was nervous when investigating comand and dab as, dealers would not quote. I would recommend Neil for any similar requirements. Dave (Bedfordshire)
Dave Chandradasa
February 27, 2017
Had a Mercedes factory reversing camera kit fitted to my 2017 CLA by Brayrooks. Neal who fitted the kit really knows his stuff , you would not know he had even been in the car. Everything was put back with out a mark. He uploaded all the updates for the kit to work. The camera works just like it had been fitted at the factory. Excellent service.
M Elms
February 3, 2017
I was having problems searching for reliable information on how to retro – fit an analogue clock to my SLK. I purchased the clock, mount and wiring loom from my local Mercedes-Benz agent, expecting some guidance with connection to the car's system. I was sadly disappointed!
Through the Mercedes-Benz Club and thanks to Steve Nessling, I was advised to contact Neil Braybrook. Neil recognised my desire to install the clock myself and was able to EXPERTLY guide me through the electronic installation.
Satisfied Customer.
Car that Functions to my Expectation.
Good Value for Money.
What more can I say!
Ralph Coulson
February 2, 2017
S class Reverse Camera
My 2007 Mercedes S Class came without reversing camera, I look and inquired all over the Internet for someone to retrofit Mercedes camera system without success.
I came across Neil Braybrook on the web, after talking to him we made an appointment for me to bring my car to his place of work.
I was so impressed with the standard off workmanship and the knowledge.
Alan Lloyd
August 19, 2016
Recently had front and rear parking sensors and electronic folding mirrors fitted to my SLK 250d. Neil provided a speedy and efficient service. There was a problem coding the mirrors to the new switch and remote control key, but Neil sorted it out without any fuss and completely to my satisfaction. I would not hesitate to recommend Braybrooks.
Mike Willoughby
December 1, 2015
I wanted to fit heated seat to my 2012 C Class, or at least my wife wanted them, and being eager to please I began my process of due diligence. I spoke to and emailed most of the so-called installers who could allegedly fit heated seats to the original Mercedes switching. Neil shone out as being the most professional and accommodating person I came into contact with.
Even though it was a 2 hour journey to get to his workshop it was worth it and my research was proved correct. I now have a better spec car and a happy wife. Bliss!!
Chris Jenkins
November 18, 2015
I chose Braybrooks over and above the so-called competitors within the marketplace quite simply due to their "Old school" friendly, professional and premium service, which is second to none when making the decision in trusting a company with your prized Mercedes. Neil fitted an Alpine INE W920R to my SLK as a replacement unit to my existing out-dated Comand system. Not an easy decision , however this was made easier due to Neil and his teams' thorough technical knowledge and understanding. Absolutely delighted with the product( upon reflection,given the multimedia benefits and how aesthetically pleasing this unit fits within and compliments the SLK, I wish I had done this ages ago)! I will recommend Braybrooks to everyone seeking a 1st class service from a personable, extremely competent company.
Paul Adams
March 13, 2015
I contacted Braybrooks after a technical guy at the Mercedes Owners Club UK reccomended them. After they supplied a new radio, I was still having problems. The company could not have been more helpful or easier to deal. I would not hesitate to reccomend them for their professionalism and the excellent way that they resolved the problem.
John Clayburn
March 11, 2015
After months of problems with my comand that would not work, and 3 visits to the local MB dealer in Antwerp, Belgium (who could not find the problem) i found this website. I contacted Neil and he was absolutely sure what the problem was… So i ended up with a 5 hour drive, and while I went shopping in London, he fixed my problem. I definitely can recommend Braybrooks to anyone, these guys know the inside of a car better than a MB Dealer! Thanks Again!
Stefan
March 1, 2015